This book is still a work in process, and I am looking to publish it in the future.
You can download the PDF and read a draft.
I would love comments or any feedback!
---
---
---
---
---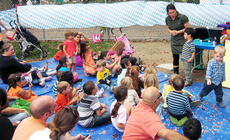 In response to public library budget cuts, Micki's created an ongoing project "
A Woodside Walk: Bubbles and Books".
Micki
engaged her neighbors in a series of literacy-based activities that took place in and around her local laundromat. Micki's activities included creating a hand illustrated local guidebook for parents to use during neighborhood walks with their children, building a book cart for her laundromat and organizing story times for her neighborhood's families.